New Formula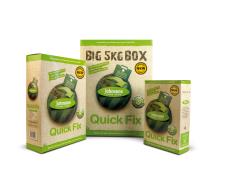 At Johnsons Lawn Seed we constantly improve the grasses in our products.
Our "New Formula" mixtures offer lawns that are
Quicker to germinate and establish
Can be successfully sown at lower temperatures
Are greener all year round
Have even better drought tolerance
And require less water and fertiliser
The New Formula mixtures in Johnsons Tuffgrass, General Purpose, Quick Fix and Quick Lawn raise their performance to new heights by the inclusion of a new lawn grass from Johnsons. All these mixtures will germinate and establish more quickly and in lower temperatures, are greener all year round, more drought tolerant and require less fertiliser and watering than standard grasses.
These new grasses are a result of Johnsons extensive grass research and breeding programme and are used extensively around the world in top sporting venues and world class tournaments.