Johnsons Lawn Seed, the UK's oldest seed brand with a prestigious track record of grass seed breeding and innovation, celebrated 200 years at the forefront of the lawn care business in 2020.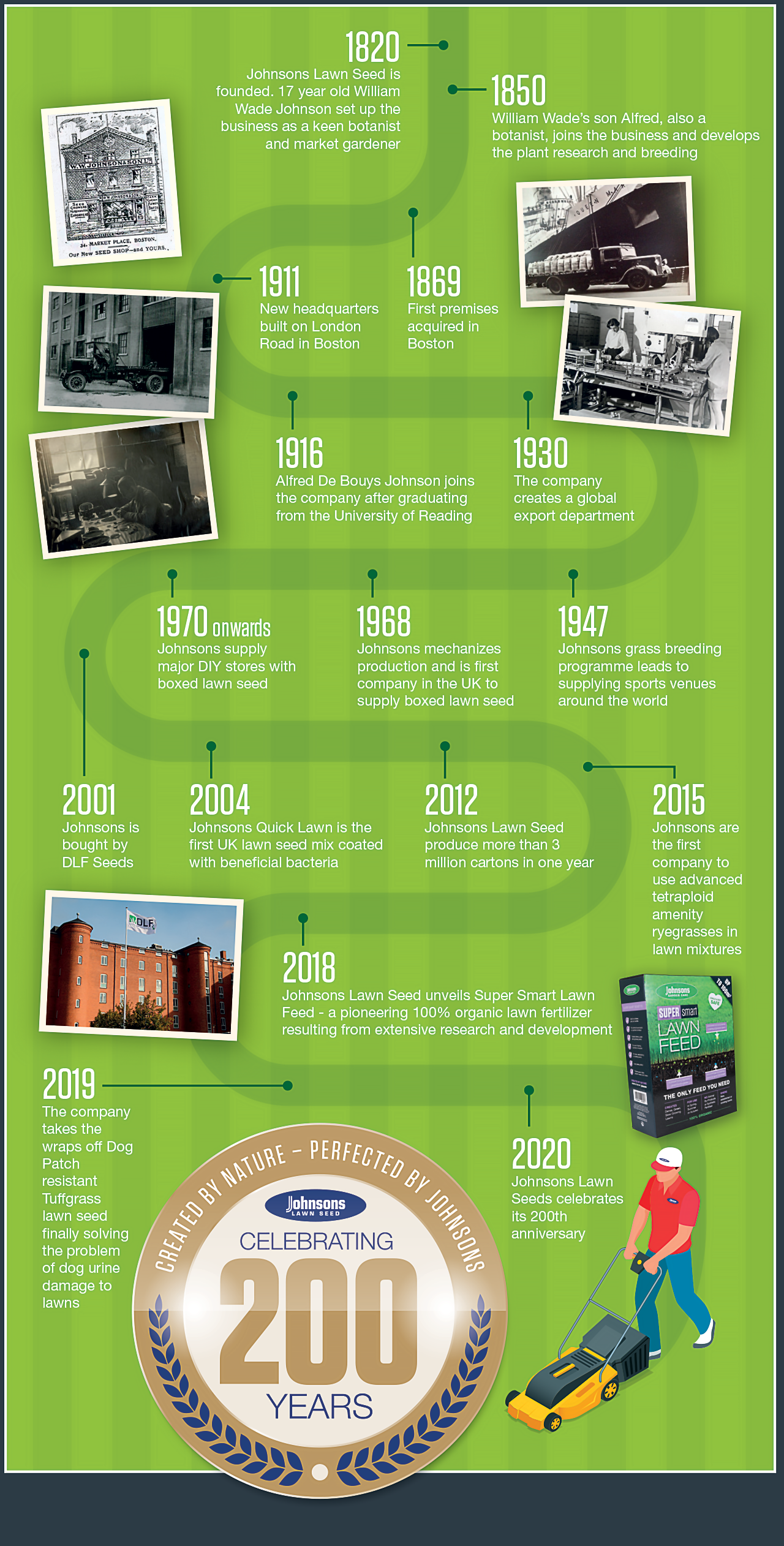 Key events for Johnsons lawn seed and the garden industry over the last 200 years
1820 - Johnsons Lawn Seed is founded. A 17 year old William Wade set up the business as a keen botanist and market gardener
1830 - Edwin Budding invents the cylinder mower, an adaption of a machine in a textile factory where he worked as a foreman.
1832 - Ransomes starts producing lawnmowers, ending the age of cutting grass by scythe. Small mowers cost seven guineas while larger models were priced at a costly 10 guineas.
1842 - The inaugural horse-drawn mower makes its debut.
1869 – First premise acquired on Bridge st Boston, William Wade was the forefront of this office for 60 years with his son Alfred, also a botanist, developed the research and breeding
1885 - The first lawn seed trials are reported to have started in America.
1893 - Steam-driven lawnmowers go into production.
1895 – Johnsons becomes a limited company managed by E J Deal as Alfreds son was only 11years old
1899 – Alfred died of ill health
1911 – New premises built on London Road in Boston, now the new head quarters and where export happened around the world
1916 – Alfred De Bouys Johnson joined the company after graduating from the university of Reading
1929 - Research into lawn turf gets underway at a research station in Bingley.
1930- 50 The company addresses the export uncertainties around the First and Second world wars by having a dedicated export department to carry on shipping around the world
1960 - The first lightweight electric mowers appear, followed by the revolutionary hover mower from Flymo later in the decade.
1998 - Johnsons Lawn Seed is bought by Perryfields.
1999 - Johnsons production facilities relocate to Inkberrow Worcestershire
2001 - Perryfields is bought by Danish co-operative DLF Seeds.
2004 - Johnsons Quick Lawn is the first UK lawn seed mix coated with beneficial bacteria
2006 - Johnsons launch first UK fertiliser combining Mycorrhizae and thatch eating bacteria
2012 - Johnsons Lawn Seed produce more than 3 million cartons
2015 - Johnsons are the first company to use advanced tetraploid amenity ryegrasses in lawn mixtures
2018 - Johnsons Lawn Seed unveils Super Smart Lawn Feed - a pioneering 100% organic lawn fertiliser resulting from extensive research and development.
2019 - The company takes the wraps off Tuffgrass with Dog Patch resistant lawn seed- finally solving the problem of dog urine damage to lawns.
2020 - Johnsons Lawn Seeds celebrates its 200th anniversary.
2022 - Johnsons lawn seed reveals fresh new look carton with QR codes to make chosing and sowing lawns easier